Zico Albaiquni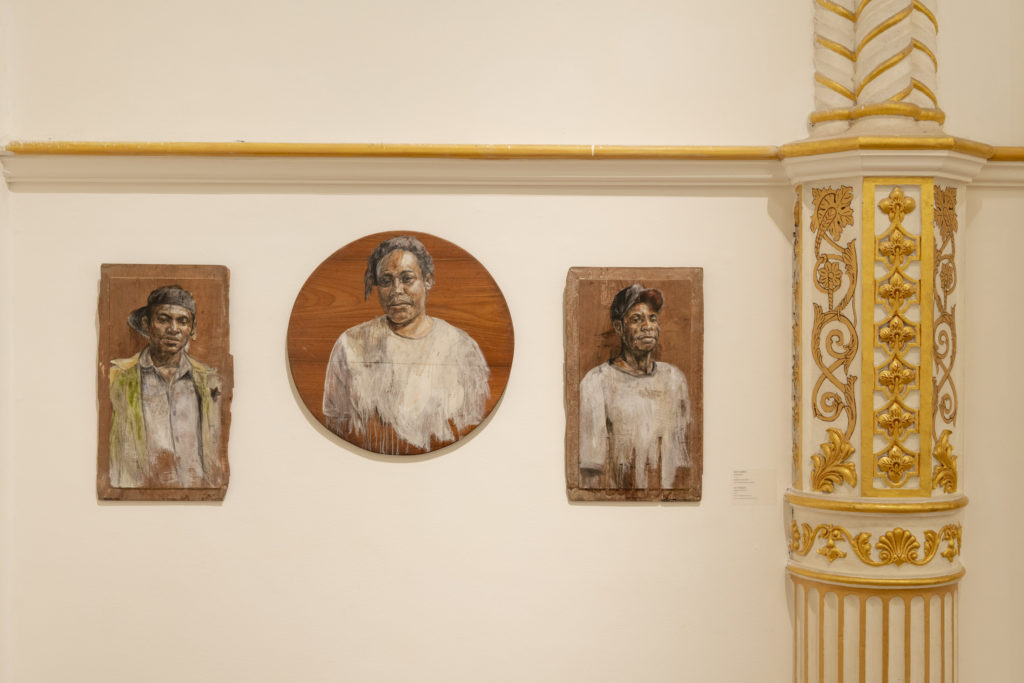 Zico Albaiquni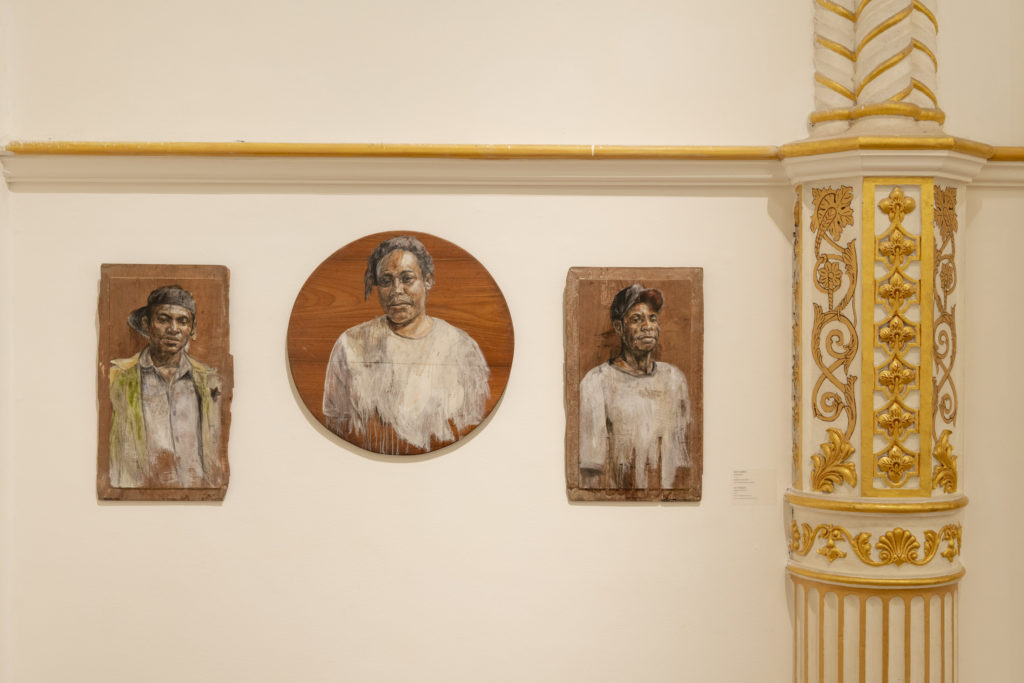 – Preface to Erudition, 2012
Oil and ABC battery on colonial teak wood
Courtesy of the artist and Wibi Rizqi Triadi
The triptych Preface to Erudition that Zico Albaiquni contributed to 'Mindful Circulations' portrays members of the Kamoro tribe from Timika in West Papua: the lawyer Maria Bugaleng and her brothers Marten Mirjan Bugaleng and Roy Marten Mirjan Bugaleng. Albaiquni is based in Bandung, Indonesia, and met Maria Bugaleng when she came to study law there. Bugaleng wanted to study law so that she could defend her people and their land from the (then) unbridled mining activities of the U.S. company Freeport-McMoRan. Albaiquni admired Bugaleng's tireless efforts to support the causes of the Kamoro people and decided to paint the portraits as a homage to the family.
The portraits connect to themes of the commodification of the landscape and environmental issues in Indonesia that recur in the paintings of Albaiquni. In this case, he chose to make naturalistic portraits, painted on old teak wood taken from a piece of Dutch colonial furniture. Albaiquni's unconventional use of material underscores the Dutch colonial roots of the exploitation of natural resources from the South East Asian archipelago. Against all the odds, Papua New Guinea is not as secluded from the world as one might think; it has long had global trade connections and was once an important source of exotic wood and other natural resources for the Dutch, but also for Asian traders.
Albaiquni's figurative and landscape paintings play with aspects of Indonesian art history and notions of painterly representation. In particular, he deploys references to various Indonesian traditions, like Mooi Indie ('beautiful Indies') painting — a genre that captures romanticised scenes of the Indonesian landscape and its people under Dutch colonial rule. Zico's unusual and intriguing colour palette developed from the tonal formulas of this early tradition. In the triptych, Albaiquni used ABC battery carbon as pigment for his paintings just like the Kamoro tribe members did, because the material they usually applied for rituals was gone as the result of the mining industry in Timika. Instead, the people in Timika used carbon from dry cell batteries and toxic mercury for their cultural practices. These toxic materials impacted the health of people in the region who came into contact with it.