Rashmimala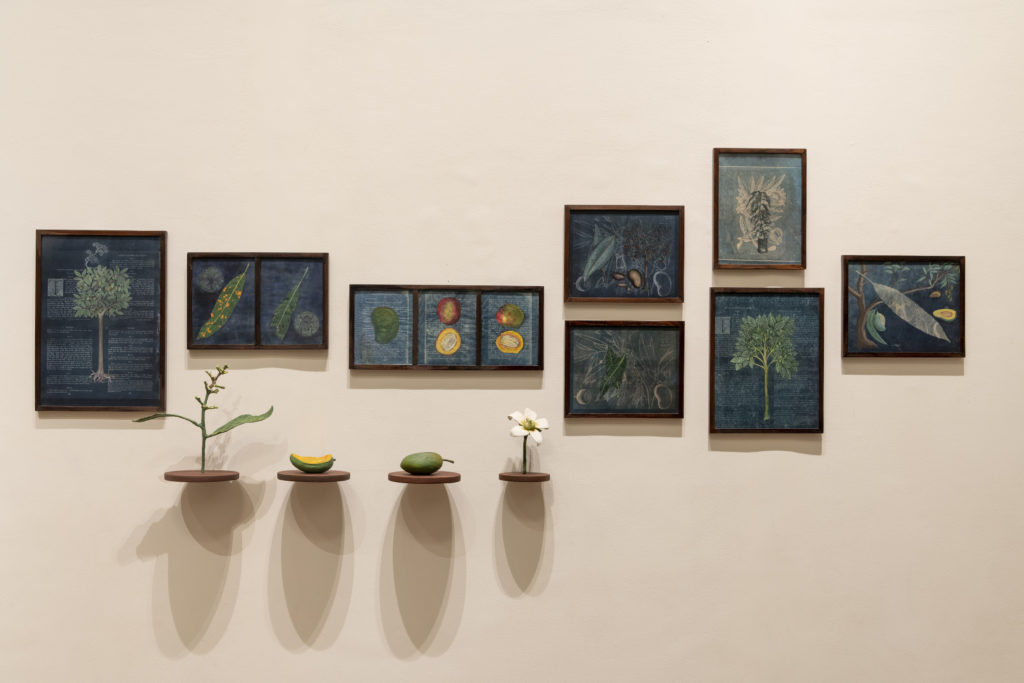 Rashmimala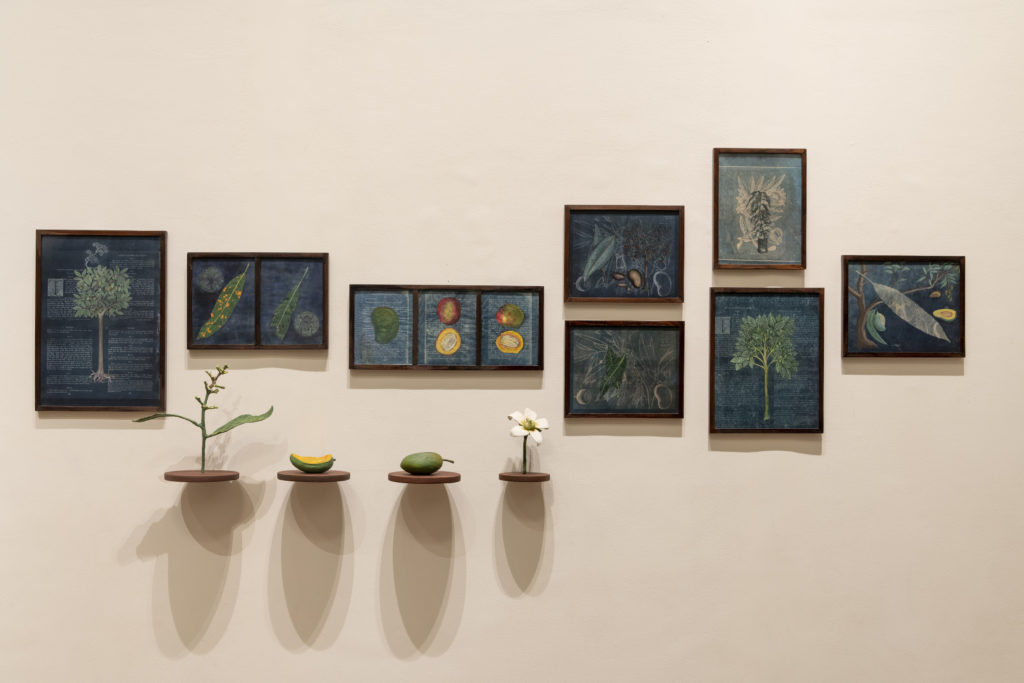 – From The Colóquios, 2015-16
18 drawings
Materials: Casein Tempera on Archival Paper and Cyanotype print
– Five Spices, 2017-18
5 drawings
Materials: Casein Tempera, cyanotype print
Measurements per drawing: 24.5 cm x 22.5 cm
– Mangifera Indica, 2019
8 drawings & 4 sculptures
Materials: Casein Tempera, Cyanotype print, Papier mâché
The European colonial endeavour of measuring the world scientifically produced several interesting cultural objects relating to the flora of Asia, publications such as the Portuguese physicist Garcia d'Orta's Colóquios dos simples e drogas he cousas medicinais da Índia (1563), the Dutch military and colonial administrator Hendrik van Rheede's Hortus Malabaricus (1678–1693) or the Polish Jesuit missionary Michael Boym's Flora Sinensis (1656). Revisiting these publications again and again, the Indian artist Rashmimala produces miniature drawings and sculptures inspired by the historical books and their makers' passion for and devotion to plants. In the midst of today's expanding monocultures and the threat of species extinction, Rashmimala traces the histories of plants.
In 'Mindful Circulations,' Rashmimala presents three groups of work which are related to each other through the artist's reading of Garcia d'Orta's Colóquios, a book that consists of 57 conversations between d'Orta and an imaginary colleague. Several of these conversation pieces mention d'Orta's garden in Goa, where the Portuguese scientist had settled down. Traces of his garden can only be found in the pages of his book. In 1534 Orta, was given the ownership of portions of Bombay island on lease. The thirty fourth colloquy mentions, mangoes were brought to Goa in a cart by his tenant from his Bombay garden. These delicious and famous variety was later named after Alphonso De Albuquerque a Portuguese general and military expert.
In the years following the Colóquios, Bombay and West India became famous for the Alphonso mango, which remains a popular trade product today in India and across the world. Rashmimala's newest series of drawings and sculptures focuses on the mango and directs our gaze toward the mango's appearance in colonial accounts.
Her earlier works From The Colloquies and Five Spices pay attention to plants that are endangered because of their non-existent or low industrial and economic value. She focussed on the urban growth causing the elimination of not only of such plants, but also the indigenous knowledge about them. Her interest in these works lies in tracing the history of the minor plants and weeds and plants that can even grow easily on the concrete pavements of urban dwellings, as they are perfect representations of the power to survive in any given situation. They also represent an irrepressible urge to live and fight against the ignorance of the other who does not even notice their existence.