Willem de Rooij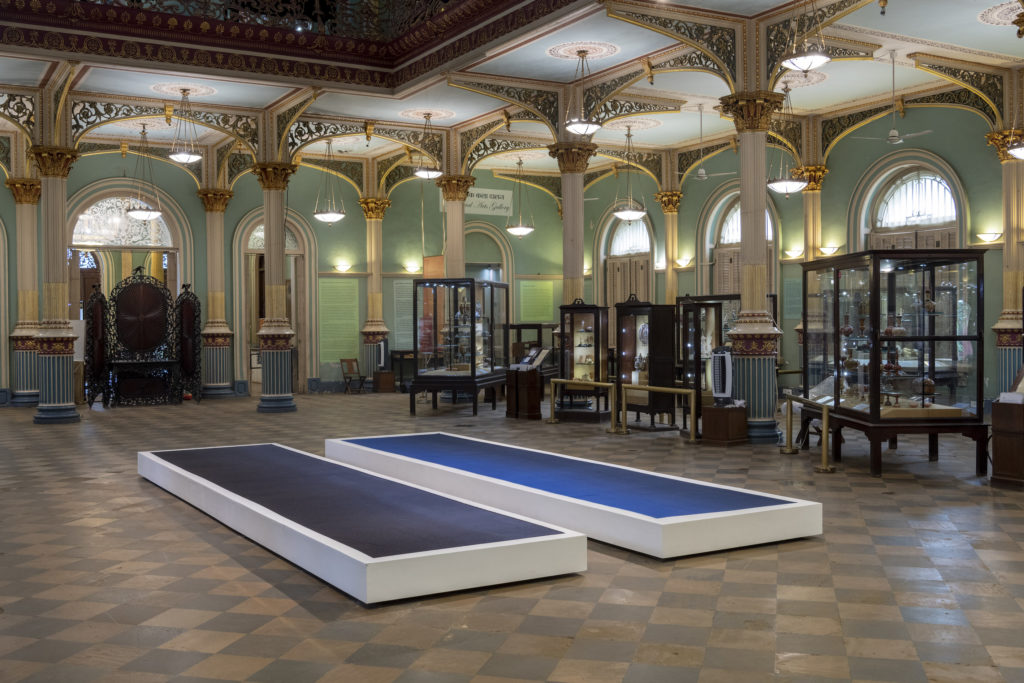 Willem de Rooij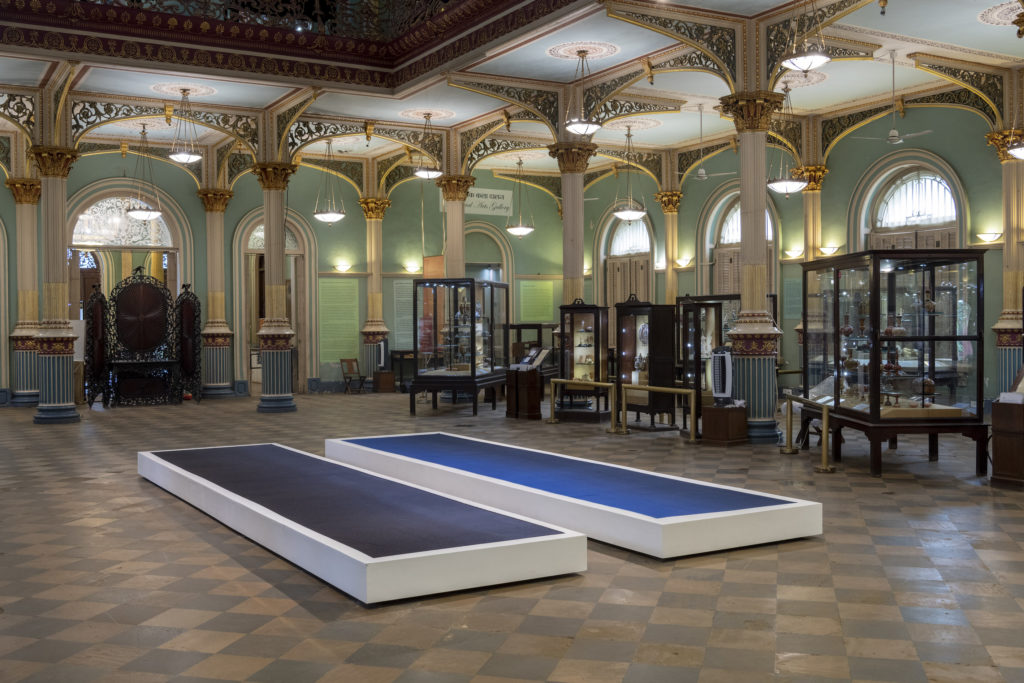 – Blue to Black, 2012
Ghanaian wax print on cotton, pedestal
550 cm x 120 cm
Courtesy of the artist and Galerie Chantal Crousel, Paris
– Black to Blue , 2015
Indonesian batik technique on cotton, pedestal
550 cm x 120 cm
Courtesy of the artist
The work of Willem de Rooij reflects on the institutions of art, especially the conditions within the spaces of galleries and museums and on how in these spaces cultural objects and information about them are presented. As an artist, De Rooij both analyses and breaks with the conventions of representation by positioning objects in ways that provoke tension between cultural, historical, political and autonomous elements. His artwork is often confined to the essential properties of the visual and spatial: form, material, color, context and sound. De Rooij's minimalist approach also marks the two works prominently displayed in the Main Hall of the Dr. Bhau Daji Lad Mumbai City Museum as part of 'Mindful Circulations': Blue to Black (2012) and Black to Blue (2015). Both works reflect subtly and abstractly on Dutch trade history with Indonesia and West-African countries.
Blue to Black
De Rooij produced Blue to Black (2012) in a textile factory in Ghana in the framework of 'Hollandaise', an exhibition curated by the Senegalese curator Koyo Kouoh. 'Hollandaise' took Dutch Wax as its starting point. Also known as Wax Hollandais, this fabric is less authentically Dutch than its name suggests. In the nineteenth century, Dutch entrepreneurs copied the batik technique and industrialized the dying process. The trade product was faster and cheaper to produce and was intended for the Dutch East Indies' market. But people in the Dutch East Indies preferred their own batik. The colorful textile from the Netherlands soon found its most important sales market in West-Africa. Traditional Dutch Wax usually has colorful, complex patterns, but de Rooij only uses blue and black. His choice of colors was inspired by racial stereotypes that Dutch forces used to categorize colonial subjects by the (perceived) color of their skin: 'Blue' for Indonesian subjects and 'Black' for West African subjects.
Black to Blue
Black to Blue (2015) is the counterpart of Blue to Black (2012), a unique textile work based on the artist's experiments with the batik technique. Indonesian craftspeople in Yogyakarta made the textile work by hand. Despite Dutch industrialization of the batik process, the traditional process remained popular in Indonesia even as Dutch Wax became ubiquitous in other parts of the world.
Blue to Black and Black to Blue
Placed in the Main Hall of the Dr. Bhau Daji Lad Mumbai City Museum, Blue to Black and Black to Blue invite visitors to reflect on the similarities between the British and the Dutch colonial trade histories from the moment they step into the museum. In a site-specific manner, the placement of the de Rooij's work breaks with the stylistic, historical and regional conventions of the Dr. Bhau Daji Lad Mumbai City Museum, which was founded in the nineteenth century to promote Bombay as an important center of trade and production in the British Empire. Modelled on European institutions, the former Victoria & Albert Museum Bombay was initially intended to scientifically inform the public about Bombay's cultural and economic significance.